Add a Room in Lynchburg, Salem, Bedford, Lexington, Christiansburg & Surrounding Areas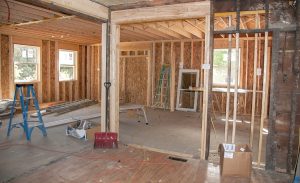 When a family grows, either with the birth of a new child or a parent moving in, the natural instinct is to move to a larger home. Unfortunately, it's not always that easy to relocate in a timely manner due to factors such as the current state of the real estate market, home sale and closing processes or new build construction periods. What homeowners tend to forget is that they can easily and more affordably add a room to their current home. Whether it's an additional room or a complete remodel, updating your existing house will provide the look and feel of a brand new home without the hassle of purchasing and moving into a new home.
No matter what the reason may be for you to add a room, there are several benefits of a home addition. From necessary and practical uses to luxury entertainment functions, an additional room or living space can easily:
Accommodate new additions to the household such as a new born or aging family member
Serve as a home office for personal business or remote work
Entertain family and guests as a custom home theater
Create a personalized home gym for 24/7 access to your favorite health fitness equipment
The benefits of investing in a professional home expansion are virtually endless. In addition to enjoying the additional space, you'll also enjoy a significant boost in the value of your home and property from the increased square-footage when you add a room.
Likewise, for those considering a complete remodel for their current home, our contractors will work with you to sort out the often overlooked details such as lighting, hardware, flooring, cabinetry, countertops and more. Once these details are squared away, our team will get the job done with minimal construction mess and little intrusion. Be it a single room addition or complete remodel, you'll be glad you invested in a professional contractor for your custom home transformation.
Whether you'd like to add a room to your home or embark on a total home renovation, our experienced Class A contractors will help you plan and execute your dream custom build. We've worked with homeowners throughout Lynchburg, Salem, Bedford, Lexington, Christiansburg and the surrounding areas to create beautiful renovations, additions and more. Contact us today to add a room to your home or get started on your custom build.