Adding a Sunroom in Daleville, Moneta, Rocky Mount, Boones Mill, Blue Ridge & Neighboring Regions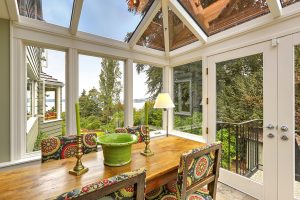 If you've considered adding a sunroom but are unsure where to begin with permits, design or construction, contacting a local contractor who specializes in sunrooms for the area is an important first step. A reliable expert will guide you through the many options involved in a new sunroom build. As one of the most trusted sunroom companies in the region, F&S Building Innovations has worked with hundreds of homeowners to do just that. It's no surprise that we've been in business for over 30 years, helping homeowners increase curb appeal and resell value with custom home additions and remodel projects.
Unlike other contractor service firms that consider themselves sunroom companies when asked to complete a sunroom construction project, we have full-time sunroom specialists on staff to help homeowners make important decisions and subcontract the most skilled craftsmen in the industry.
When adding a sunroom, you'll need to decide where the sunroom should exist within the home, what the layout should be and what type of enclosure best fits your home and personal style. The most common sunroom styles and roof types that sunroom companies, including F&S Building Innovations, offers to those adding a sunroom to their home include:
Cathedral style glass roof
Cathedral style solid roof
Conservatories
Curved sunrooms
Straight eave glass roof
Straight eave solid roof
Adding a sunroom not only increases the square footage of your living space but also enhances the usable space for family time, guest entertainment and more. If you're not already envisioning Sunday mornings spent on your brand new custom sunroom, let our expert designers bring your sunroom addition project to life. We'll work with you from start to finish to create the perfect custom sunroom that everyone will enjoy for years to come. Whether you already have a sunroom layout and design in mind or are still exploring your options, you'll be in great hands with our team at F&S Building Innovations.
We've worked with homeowners in Daleville, Moneta, Rocky Mount, Boones Mill, Blue Ridge and the neighboring regions to bring their vision to life for over 30 years. Contact us today to learn more about adding a sunroom to your home.