Backyard Decks in Bedford, Salem, Lexington, Hollins, Rocky Mount & Surrounding Cities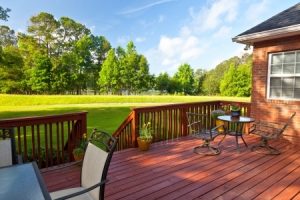 You should love the exterior of your home just as much as you love the interior. An outdoor renovation can improve the way you feel about your exterior living space and also raise your overall property value. F & S Building Innovations is a Class A contractor that has been rated as a top local contractor for backyard decks, porches, and more. No project is too small or too large when it comes to designing and building the perfect outdoor space or sunroom for your family's enjoyment. We handle all projects from updating existing decks to completely revamping your backyard. F & S Building Innovations is a qualified contractor for any home renovation project.
Our expert contractors will perform a complete evaluation to ensure the structure of your new or updated backyard deck will be correctly supported. If any portions of the deck display signs of aging or splintering, our worry-free and weather-proof solution will seal the wood to prevent further damage and give your deck a fresher look. Quality and safety are our top priorities because we understand you want to enjoy your newest home investment with peace of mind.
Railings shape the overall style of your deck and provide your family with peace of mind knowing they are safe from falling. Railing options to consider for backyard decks or sunroom extensions include:
Wood
Aluminum
Wrought Iron
Vinyl
Composite Material
Our craftsman provide custom details and final finishes to each railing for added overall style and personality to each custom deck or sunroom we provide. Our contractors can assist you with additions to backyard decks or build a sunroom that perfectly complements your home. F & S Building Innovations is the go to contractor for backyard decks in Bedford, Salem, Lexington, Hollins, Rocky Mount and surrounding cities. Contact one of our courteous associates today for a quote on your outdoor space or sunroom and learn more about F & S Building Innovations.