Basement Bathroom for Roanoke, Salem, Lynchburg, Bedford, Lexington & Neighboring Areas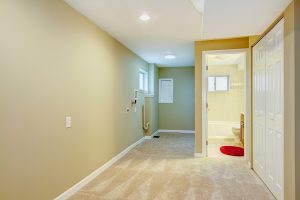 Whether you've recently transformed your basement into a guest bedroom, entertainment room or home gym, adding a basement bathroom is convenient and increases the property value of your home. Below-ground construction and plumbing is no easy task and, if not handled with expert care, can require costly repairs. At F&S Building Innovations, our skilled bathroom contractors can help you complete your below-ground renovation with confidence, and we proudly serve those in Christianburg, Vinton, Cave Spring, Troutville, Smith Mountain Lake or neighboring areas.
When planning your basement bathroom addition, it's critical to consider drainage solutions for your below-ground plumbing project. Damp, chilly basements require proper plumbing and ventilation to reduce air moisture. Experienced contractors will be able to advise the ideal placement of your basement bathroom to avoid these common mistakes, as well as research zoning ordinances and deed restrictions specific to your area. At the end of the day, having a smart approach to basement plumbing should be a top priority when choosing bathroom contractors for your home project.
At F&S Building Innovations, our trusted builders handle every step of the process, so you can enjoy the many exciting design options. From selecting bathroom fixtures like cabinets, mirrors, shelves and drawers to choosing between a bath tub or corner shower, our bathroom contractors are committed to bringing every detail of your project to life.
Depending on how you envision your basement's purpose in your home, our team of contractors can help you plan your basement bathroom size and function. Whether you opt for a full bath to finish your home gym or a simple powder room to accompany an entertainment room, our team can help you complete your below-ground living space. Our bathroom addition expertise and services include:
Master Bath
Half Bath/Powder Room
Separate room for the shower/toilet
Bathroom with laundry facilities
Regardless of how you choose to finish your basement living space, our team can help you design a perfectly customized space to suit your family's growing needs. F&S Building Innovations proudly serves Roanoke, Salem, Lynchburg, Bedford, Lexington and surrounding communities. Contact us today to schedule your free consultation and start planning your basement bathroom addition with one of our expert!