Basement Remodeling in Bedford, Boones Mill, Cave Spring, Christiansburg, Lexington & Surrounding Cities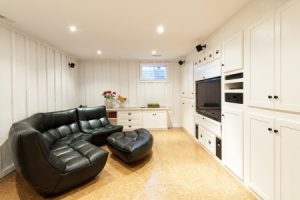 When you think about the least utilized space in your home, which room comes to mind first? For many people, the most pressing space in need of a little TLC is the basement. Basement remodeling is becoming more popular as people find new ways to ditch the dark and spooky stereotypes and connotations most basements are up against in order to build a new livable and enjoyable space for the home. Basement renovations can be one of the more complicated updates you can make to your home in terms of permits, waterproofing, etc. We highly recommend you hire F&S Building Innovations as your contractor. As your contractor, the number of headaches and unnecessary costs will be reduced, along with the time needed to complete the project.
We are experts in our craft and strive to make any basement remodeling project go as smoothly as we possibly can. F&S Building Innovations has over thirty years of remodeling experience. We are confident we can take on even the most difficult basement renovations because we build smart and build right the first time.
We are a trusted resource for your basement remodeling project for the following reasons:
Nothing short of quality craftsmanship
Superb attention to detail
Excellent customer service
Focus on safety for all involved
Dependable workers
Don't let an unfinished basement intimidate you any longer! We have hundreds of previous projects with satisfied customers which has allowed us to reach our level of quality service we provide today. It is our mission to coordinate all of your needs during any project you take on with us, from consultation to the final inspection walk through. F&S Building Innovations is your trusted solution to any needs for basement remodeling in Bedford, Boones Mill, Cave Spring, Christiansburg, Lexington and surrounding cities. Contact us today to begin the exciting process of basement renovations you never know you could be so thrilled about!