Basement Renovations for Those in Roanoke, Salem, Lynchburg, Bedford, Lexington & Surrounding Areas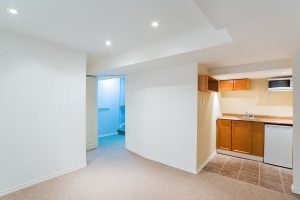 If you are searching for an experienced contractor to handle basement renovations for your home, look no further. Whether you'd like to finish an existing basement or are considering house additions of any kind, F&S Building Innovations can help you and your family create the perfect customized space for your needs.
While most homeowners consider house additions in their current residence when they are seeking to accommodate a growing family or house guests, basement renovations often accomplish the same end result and are usually more cost-effective than building a new living area, bed room or bathroom. In addition to saving money, basement renovations typically require fewer permits during the construction process, which also saves a considerable amount of time to complete the remodel project.
When most homeowners first consider finishing their basement, they often envision a space that's subpar in building materials and standards than the above ground rooms and bathrooms, but that doesn't have to be the case. At F&S Building Innovations, we will convert your below ground living space into an inviting, custom living area that meets your needs in both style and function. During the process of your basement transformation, our team of experienced professionals will also make sure that key details are not overlooked, such as:
Plumbing solutions
Natural and installed lighting
Concealed pipes, ducts and wires
Sufficient headroom and appropriate ceiling height
Waterproof flooring
Storm drain installation
No matter what your remodel vision or needs may be, a finished basement offers homeowners several options for space usage. Whether you decide to use your remodeled basement as a guest bedroom, recreational room, home theater, home office or personal gym, you'll enjoy your beautiful custom living space and increased home value for years to come.
Our contractors work year-round to make plans for basement renovations a reality. We've helped those in Roanoke, Salem, Lynchburg, Bedford, Lexington and surrounding areas to finish or remodel their basements and create the house additions of their dreams. Contact us today to schedule your free consultation with a contractor.