Bathroom Contractors Serving Roanoke, Salem, Lynchburg, Bedford, Lexington & Nearby Regions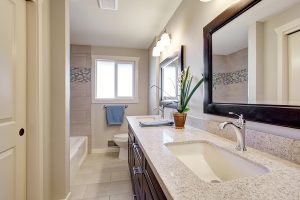 F&S Building Innovations partners with skilled craftsmen to help make your dream home a reality. Whether you're expanding the size of your home to accommodate your growing family or remodeling an existing bathroom to better fit your needs, our trusted bathroom contractors can make your home renovation a breeze.
Bathroom additions and remodeling are one of the more budget-friendly home renovation projects that you and your family can embark on. Still, having experienced bathroom contractors ensures quality craftsmanship, proper plumbing and timely service. The opportunities are endless when it comes to your home renovations.
Some of our more popular bathroom renovations solutions for those in Christianburg, Vinton, Cave Spring, Troutville, Smith Mountain Lake or neighboring areas include:
Master Bath
Half Bath or Powder Room
Bathroom with separate shower or toilet room
Bathroom with laundry facilities
F&S Building Innovations' contractors are equipped with the know-how to complete any bathroom renovation or addition. We can truly turn any space into a customized bathroom perfect for your family's growing needs. Our team of bathroom contractors will help you every step of the way. From selecting design elements such as color schemes and cabinetry to fixtures and storage, your bathroom renovation experience with F&S Building Innovations will be as personalized as our service.
Our customizability options extend beyond the bathroom basic design, fixture or storage options. We also specialize in providing bathroom accessibility solutions compliant with ADA standards for our aging homeowners. Bathroom customizations, including barrier free showers, walk-in tubs and wide doorways, are just the start when it comes to making seniors and the disabled feel safe and comfortable in their homes.
Realizing the benefits and excitement of home renovation and bathroom remodeling is a click away for those in the Roanoke, Salem, Lynchburg, Bedford, Lexington and neighboring areas. Contact us today to schedule your free consultation with one of our trusted bathroom contractors!