Bathroom Remodel in Salem, Roanoke, Bedford, Christiansburg, Smith Mountain Lake & Surrounding Areas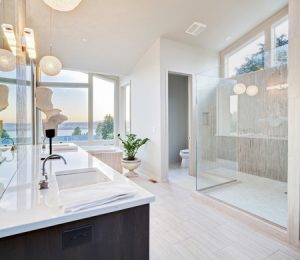 If you are searching for a trusted company to handle a bathroom remodel project, your search can end here. As the area's most trusted general contractor for renovations, remodels and home additions, F&S Build Innovation has over 30 years of experience in the custom construction and contractor services industry. We've helped hundreds of homeowners transform their homes and expand their investments, on time and on budget.
When planning your powder room, full or master bath renovation, it's important to hire a professional general contractor to ensure that your personalized vision is feasible. Even if you are not doing much to affect the original plumbing, you always run the risk of damaging plumbing when working in close proximity to the pipes. Having a reliable and knowledgeable designer and builder will help streamline your bathroom remodel and eliminate unnecessary expenses due to accidents.
In addition to helping homeowners and investors save money on accidental damages, a professional general contractor will make sure that all important decisions are being made in a timely fashion. When it comes to executing a complete bathroom remodel, you'll need to select and order a wide variety of materials such as:
Flooring
Bathroom Tiles
Countertops
Fixtures
Cabinets
Showers
Bath Tubs
Walk-In Tubs
Ordering these materials in time is important for those who are adhering to a strict construction timeline. Without an on-site contact managing the important details, these key elements are easy to overlook. At the end of the day, one of the best investments you can make is right under your own roof.
No matter what your bathroom remodel needs may be, you can count on our expert staff to provide superior craftsmanship, use the highest quality ingredients and provide unparalleled customer service time and time again. We've partnered with homeowners throughout Virginia including those in Salem, Roanoke, Bedford, Christiansburg, Smith Mountain Lake and the surrounding areas. We offer free consultations to help you get started on your dream home improvement project, so contact us today to schedule yours!