Bathroom Remodel in Roanoke, Salem, Lynchburg, Bedford, Lexington & Surrounding Areas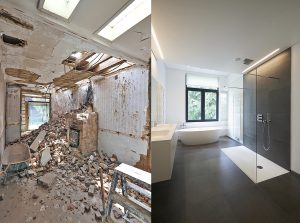 While most people who come to F&S Building Innovations for a bathroom remodel are looking to modernize their bathroom for aesthetic purposes and convenience, many customers in Christiansburg, Vinton, Cave Spring, Troutville and Smith Mountain Lake have come to us over the years for their bathroom remodeling because someone in the family is or has become disabled and is looking for a bathroom remodel designed to accommodate their needs.
Imagine how difficult it would be to turn on the water in your sink, get into your shower or get up and down from the toilet if you were in a wheelchair. These tasks can be extremely difficult for someone who is disabled and also adds unnecessary stress to their caretakers.
It is important to have the right company for a bathroom remodeling project. The goal of our ADA Specialties Division is to help disabled and/or senior citizens safely stay in their homes. That is why we take pride in helping to create designs that not only make it easier for someone disabled to maneuver, but are modern and eye-catching. We offer consultants that have been certified with the National Association of Home Builders as CAPS (Certified Aging-In-Place Specialists) to make home modifications for a bathroom remodel or other home renovation for the aging-in-place. CAPS Certification requires the following:
Required courses
Code of ethics pledge
Liability insurance
Valid business license
Completion of 12 hours of continuing education every 3 years.
Free consultations and quotes are available in Roanoke, Salem, Lynchburg, Bedford, Lexington and the surrounding areas for any project from F&S Building Innovations including a regular bathroom remodel or ADA bathroom remodeling. Our designers will discuss your desires and offer suggestions during the consultation. After the consultation, they will get to work designing the perfect bathroom for you and provide you with a quote. Contact us to schedule an appointment with one of our CAPS certified specialists now.