Bathroom Remodel for Those in Roanoke, Salem, Lynchburg, Bedford, Lexington & Neighboring Cities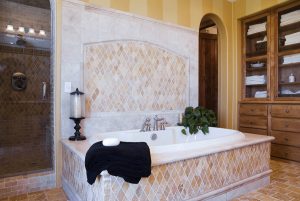 Considering a bathroom remodel? Home additions not only help accommodate growing households, but adding square footage to your home can significantly increase your property value, whether you live in in Christianburg, Vinton, Cave Spring, Troutville, Smith Mountain Lake or neighboring areas. At F&S Building Innovations, we're committed to helping you bring your bathroom remodel and home additions to life.
Bathroom remodels and additions increase space and bring a feeling of luxury to your home. From master bathrooms to powder rooms, having sufficient space to accommodate your family and guests provides convenience and comfort for everyday living and entertaining. These benefits make all the difference when it comes to comfortable living for those who live in or visit your home.
Before embarking on your bathroom remodel, it's recommended that you call in an expert bathroom contractor for a personalized project consultation. At F&S Building Innovations, we approach home additions on a case-by-case basis to ensure the utmost craftsmanship and quality for your custom bathroom remodel. Our experience has allowed us to fine-tune critical stages of bathroom remodels and home renovations, allowing our team to work effectively and efficiently towards your goal. Some of the more common mistakes that occur during "Do It Yourself" bathroom remodels include:
Ignoring the Bathroom Fan
Failing to Plan Ahead
Setting an Unrealistic Budget
Overlooking Key Stages in the Process
Rushing to the Finished Product
Even if you think you're working with a "Do It Yourself" budget, our experts at F&S Building Innovations can help you reduce unexpected costs incurred by these common oversights and inexperienced workmanship. More importantly, properly executed home additions pay off with increased property value.
If you're ready to benefit from additional square footage and see an immediate return on investment, let our experts at F&S Building Innovations be an integral part of your bathroom remodel. We proudly serve those in the Roanoke, Salem, Lynchburg, Bedford, Lexington and neighboring areas. Contact us today to schedule your free consultation!