Bathroom Remodels in Roanoke, Salem, Lynchburg, Bedford, Lexington & Neighboring Areas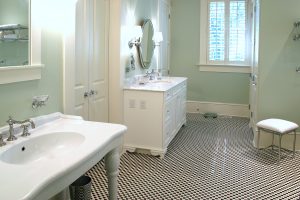 Are you looking for a contractor who specializes in bathroom remodels? F&S Building Innovations is a Class A contractor known for providing high quality craftsmanship, excellent attention to detail and exceptional customer service. Whether you're looking to remodel bathroom, kitchen or basement areas for personal home improvement or real estate investment reasons, our team has you covered.
As with most home improvement projects, we typically don't advise "do it yourself" approaches to bathroom remodels unless you have a strong construction background and are equipped with a full understanding of the necessary tools and safety procedures for the job. By hiring a knowledgeable, professional contractor, you can rest assured that only the most skilled and experienced subcontractors are working on your home renovation.
For most all plans to remodel bathroom areas in the home — be it a full master bath or hallway powder room — it's crucial to understand the unique plumbing, electrical and design needs specific to your space. With so many options available to those interested in bathroom remodels, it's important to consider the available space and purpose for your remodel bathroom layout.
While our bathroom remodels can be customized to fit any preference, the most popular bathroom layouts include:
Spacious master bathroom
Efficient full bathroom (enclosed shower and tub combo)
Guest/three-quarter bathroom (toilet, sink and shower)
Powder room
Not seeing the ideal bathroom layout for your needs? Don't fear. Whether you're looking for custom storage solutions or specific luxury fixtures, the team at F&S Building Innovations will help you design and remodel the custom bathroom of your dreams.
Let F&S Building Innovations handle the coordination and details of your renovation and remodel project. As the trusted contractor for the Roanoke, Salem, Lynchburg, Bedford, Lexington and neighboring areas, we consider ourselves the pros to go to for innovative design and construction. Ready to get started? Contact us today to schedule a free consultation with one of our contractors.