Bathroom Renovations in Bedford, Roanoke, Rocky Mount, Salem, Vinton & Surrounding Cities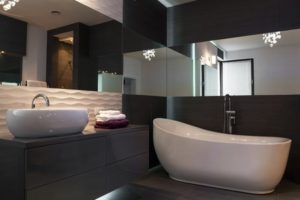 For bathroom renovations or any other home renovation or remodeling project, choose the home improvement contractors more and more Virginia homeowners have come to trust and rely on – F&S Building Innovations. With more than 30 years of experience in the remodeling industry, we have the skills and expertise to turn any home improvement project into a reality.
An easy way to update your home – and increase its value – is with home renovations. Bored with your current space? Want an updated look? Need new fixtures? F&S Building Innovations can handle it all. When you come to us with your home improvement ideas, we will work closely with you to design the space you have always envisioned. We are Class-A Contractors who are able to see every project through to its conclusion. From initial project planning stages and subcontractor procurement to the build out and final inspection, our team of home contracting experts can be with you every step of the way.
Common bathroom renovations include:
Updated Countertops
New Bathroom Tiles
Updated Flooring
New Tub, Shower and Sink Fixtures
Updated Mirrors
New Layouts
Privacy Additions
Double Vanities
Dressing Rooms
and More!
F&S Building Innovations will walk you through each phase of the design and build process, helping you to make the decisions that will best fit your needs, budget and taste preferences. From providing feedback on designer tiles to helping you determine optimal layouts through proper space planning, our team will ensure that you are kept informed and included throughout your remodel.
Our home improvement contractors look forward to helping you create the bathroom of your dreams, so if you live in Bedford, Roanoke, Rocky Mount, Salem, Vinton or the surrounding cities and are interested in discussing bathroom renovations in your home, contact us today for a free design consultation. Your expectations will always be exceeded when you choose F&S Building Innovations for any and all of your home remodeling projects. We are the kitchen, decking, sunroom, addition and bathroom renovations experts!