Bathroom Renovations in Salem, Bedford, Christiansburg, Lexington, Moneta & Neighboring Areas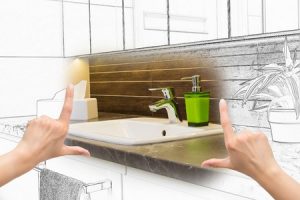 If you're considering a home improvement project such as bathroom renovations, new home additions, kitchen remodels or more, it's important to consult a professional construction contractor service company such as F&S Building Innovations to complete your project to your satisfaction, within your budget and within the project's agreed-upon time frame. Unlike other home builders, F&S Building Innovations dedicates specialized teams to our client's specific renovation or new build needs. For over 30 years, we've prided ourselves on being the preferred contractor services company for homeowners throughout western Virginia, and we continue to provide excellent value and customer care with each new project that we take on.
When it comes to bathroom renovations, the sky's the limit in terms of your customization options. Ultimately, you will need to find home builders, such as those at F&S Building Innovations, who are eager and capable to customize an area to your specifications. While our team can work with you to design luxurious custom bathroom layouts, some of the more common plans include:
Spacious master bath
Efficient full bath (enclosed shower and tub combo)
Guest/three-quarter bath (toilet, sink and shower)
Powder room
In addition to the more common styles for bathroom renovations, we also specialize in providing ADA accessibility solutions to handicapped or aging members of the household. We are one of the few home builders in the area who are able to safely and securely install ADA approved equipment for showers, baths and more.
Whether you are looking to increase the utility of your home with bathroom renovations or want to build a new bathroom altogether, our experienced remodeling contractors will help bring your vision to life. We've helped those in Salem, Bedford, Christiansburg, Lexington, Moneta and the neighboring areas create the custom home of their dreams. Contact us today to get started on your custom home improvement project today. We offer free consultations to those seeking to transform their home from ordinary to extraordinary.