Bathroom Renovations for Those in Roanoke, Salem, Lynchburg, Bedford, Lexington & Surrounding Regions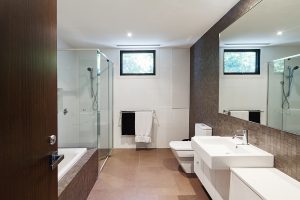 Searching for a reliable contractor for your home's bathroom renovations? Whether you're replacing outdated cabinetry and fixtures or updating your current master bath to accommodate a walk in bathtub, our contractors and subcontractors will ensure that the utmost quality and care goes into the construction of your dream bath project. No matter what custom figures you'd like to include in your remodel, our team can help you customize your bathrooms to fit your family and guests' needs.
Despite the popular belief that bathroom remodels can be more cost effective when done yourself, the truth of the matter is that, when corners are cut during a home remodel of any kind or work is being done by someone inexperienced, the appearance and overall value of the home are compromised. More importantly, bathroom renovations require a great deal of attention to detail in order to accommodate the many electrical and plumbing fixtures. In addition to improper electrical and plumbing considerations, rookie remodelers tend to commit the following common mistakes:
Failure to plan for the bathroom fan
Under budgeting for materials and time necessary
Ignoring small errors being made along the way
When it comes to installing a walk in bathtub, however, the risks are even higher. Ensuring a safe, stylish walk in tub installation for those in need of ADA compliant bath fixtures is no easy task for an unskilled worker. More importantly, having someone who is trusted, insured and licensed to install fixtures, such as a walk in bath, reinforces the safety features of such upgrades.
No matter what your budget or design needs, our skilled contractors will partner with you to execute your custom bathroom renovations with your style and needs in mind. We've helped those in Roanoke, Salem, Lynchburg, Bedford, Lexington and surrounding areas to realize their custom dream bathroom. Contact us today for a free bathroom renovations estimate from one of our qualified and experienced contractors.