Building a Deck in Salem, Lynchburg, Lexington, Daleville, Moneta & Surrounding Regions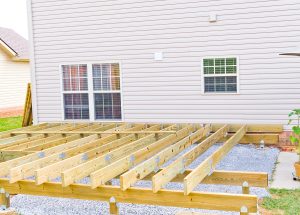 Our team at F&S Building Innovations specializes in creating beautiful custom spaces for both your indoor and outdoor living areas. When building a deck for a customer, we work closely with the homeowners to establish their ideal layout, spatial needs and aesthetic for a smooth construction process from consultation to the final deck walk through. As one of the area's most trusted deck building companies, our team is dedicated to providing superior construction experiences — from quality materials and skilled craftsmanship to excellent customer service and more.
Building a deck not only complements your backyard landscaping but also adds value to your home if and when you decide to resell. Depending on the type of decking material used and layout selected, building a deck is a fairly cost-efficient home improvement project that requires minimal red tape and permits.
One of the most important decisions you'll need to make when building a deck for your backyard will be which material to use for the decking itself. Prices can vary drastically by material type, but you can essentially expect to pay more for durable, long-lasting material. Some of the more popular choices, listed from most economic to highest quality, include:
Pressure-treated lumber
Redwood and cedar wood
Composite wood decking
Aluminum decking
Unlike most deck building companies, our knowledgeable contractors will never try to up-sell you on building and decking material that you do not need. During the initial planning phases of your new deck build, our team will work with you to understand the structure's function, design goals and budget. From there, we'll work with you to choose the ideal material based on your needs and price range.
Whether your home improvement needs exist inside the home or in your backyard, you can rely on our experienced team of designers, contractors and subcontractors to get the job done right. We've worked with hundreds of homeowners in the Salem, Lynchburg, Lexington, Daleville, Moneta and the surrounding regions to enhance their backyard with a custom living space. If you've decided that building a deck is right for you, contact us today to request a free consultation with one of our experienced contractors.