Complete Home Renovation for Roanoke, Salem, Lynchburg, Bedford, Lexington, Christiansburg & Surrounding Areas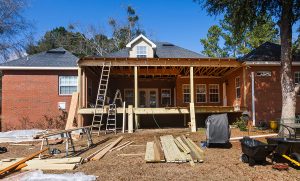 If you're searching for a contractor to manage your complete home renovation project, look no further than the experienced professionals at F&S Building Innovations. We've worked with hundreds of homeowners to manifest their ideal custom home. Whether you're renovating an older house or remodeling your longtime family home, hiring a contractor should always be your first step in embarking on a successful renovation.
Once you've decided to initiate a home improvement project, the next step is hiring a contractor who will help you realize your home vision. At F&S Building Innovation, our team is dedicated to delivering high-quality custom construction for all types of renovation, remodel and new build projects. Over the years, we've had the opportunity to work with hundreds of homeowners who made the right choice in hiring a contractor who could get the job done expertly and efficiently.
Our highly-skilled team of subcontractors work hard to deliver high-quality craftsmanship for a variety of services including:
Kitchen and bathroom updates
Complete home renovation projects
Balconies, decks, patios and screened-in porches
and more!
In addition to these construction services, F&S Building Innovations also specializes in making homes more accessible for our aging customers. Be it in the form of ramps, elevators or widened doorways, our team of contractors and subcontractors can enhance the comfort and function of any home for your unique needs.
As an experienced contractor company, we know first-hand how important customization is for our valued customers. In an age where "cookie cutter" homes are a dime a dozen, having a truly charming and one-of-a-kind home is something that speaks volumes about the owner. Custom homes also retain their re-sell value for much longer than developer model homes.
With over 30 years of industry experience serving those in Roanoke, Salem, Lynchburg, Bedford, Lexington, Christiansburg and the surrounding areas, we've helped homeowners bring their custom dream home to life with complete home renovation projects. Contact us today to learn more about our turnkey construction and contractor services for residential remodeling, renovation, new home additions, new builds and more.