Deck Builder in Roanoke, Lynchburg, Bedford, Lexington & Surrounding Cities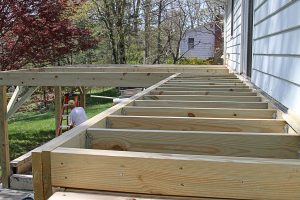 Are you looking for a professional and experienced deck builder? Perhaps you want to add a walk in tub during a new bathroom remodel? A new deck will expand your living space, and at the same time, it will improve the value of your home and enhance your lifestyle. But that will only happen if you choose the right deck builder, and we are confident that deck builder is F&S Building Innovations in the Roanoke VA area.
Our deck builder design team takes into account your yard layout and current landscaping, as well as how you will most often use your deck. They can create a no-fuss, simple ground level deck, or they can design something much more interesting and elaborate. Your deck can have ornate railings, multiple levels or unusual geometric floorboard layouts. Attractive lighting and convenient power outlets can also add to the beauty.
Use your new deck to sip your morning cup of coffee. Use it for family barbecues and birthday celebrations or maybe just enjoy a book or relax in the fine Virginia air.
We can make your deck even more resilient with our new, modern composite materials. The benefits to using these materials are many:
Virtually maintenance-free
Wide selection of colors
Staining and painting unnecessary
Fade resistant
When you choose an experienced deck builder like F&S Building Innovations, you are guaranteed to be satisfied with our work. Not only do we build decks, we also build additions and remodel kitchens, bathrooms, sunrooms and porches. Relax in your new walk in tub in your newly remodeled bathroom and more!
Contact F&S Building Innovations today for a professional, experienced deck builder in Roanoke, Lynchburg, Bedford, Lexington, Christiansburg, Vinton, Cave Spring, Troutville, Smith Mountain Lake and surrounding cities. You'll be glad you did!