Deck Construction in Roanoke, Salem, Lynchburg, Bedford, Lexington & Beyond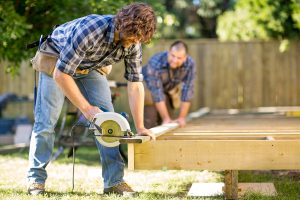 Looking to begin a deck construction project for your home? F&S Building Innovations can help you and your family expand your home with a quality outdoor deck or sun room. Whether you plan on using the added square footage to entertain guests or as a play area for your family and pets, an outdoor deck is the perfect home improvement project to add value to your home and memories for your family.
Building a new deck is something that all homeowners may consider at some point. Those who live on waterfront property, own a pool or maintain a backyard garden in Christianburg, Vinton, Cave Spring, Troutville, Smith Mountain Lake and surrounding areas can appreciate the added luxury a deck can bring to an outdoor living space. Besides the aesthetics a new deck provides, proper outdoor flooring provides safety for family and guests.
While deck construction is a seemingly simple task, this home improvement project could result in potentially dangerous situations and even injury, if not built properly. Uneven surfaces, splintered material and shoddy infrastructure can put you, your family and guests at risk.
With over 30 years of experience and hundreds of satisfied customers, you can trust our expert builders at F&S Building Innovations to turn any backyard into a private getaway for your family and guests.
Some design elements to consider include:
Deck Framing & Drainage
Composite Decking
Outdoor Lighting
Furniture, Pergola and Outdoor Storage
Fencing
Railing
In addition to outdoor living space solutions, our team of expert builders can construct any indoor sun room, as well. A sun room is the perfect complement to any deck construction and offer shelter for family and guests in extreme weather.
No matter your deck construction needs, F&S Building Innovations can help complete your backyard home improvements. We offer deck construction to those in Roanoke, Salem, Lynchburg, Bedford, Lexington and surrounding areas. Contact us today to schedule your free consultation with one of our experienced builders.