Deck Contractors for Lexington, Blue Ridge, Rocky Mount, Starkey, Hollins & Neighboring Regions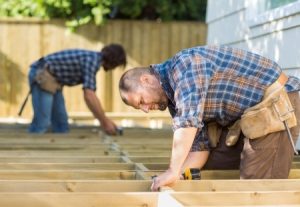 When we start to think about the warmer months, visions of barbecuing and enjoying time with friends and family can instantly come to mind. F&S Building Innovations wants to help you make that vision a reality by working with you as your deck contractors and creating custom outdoor living spaces you can enjoy with your loved ones. Whether you have a current outdoor space that needs to be renovated or need a completely new outdoor addition to your home, our company has the team of renovation contractors to get the job done right. We work with only the highest quality products from the most reputable manufacturers and will have your deck thriving no matter what the weather conditions are.
As experienced deck contractors, we can customize your outdoor living space using the following materials and more:
Wood
Aluminum
Wrought Iron
Vinyl
Composite Material
We assess each client's needs on an individual basis, and therefore, we will closely with you to ensure our custom craftsmanship meets and exceeds your design and functionality needs There's a reason we are voted as one of the best companies for decks in the area, and we intend to show each of our customers nothing short of excellence.
To make your new outdoor living space even safer and more easily accessible, we can also install deck railings and stairs, where needed. Need a ramp for easier access? We also have an ADA Specialties Division team of renovation contractors who are specifically focused on keeping seniors and people with disabilities comfortable in their homes. We aren't just deck contractors, we are renovation contractors that strive to construct the highest quality living spaces, no matter which project we are taking on.
F&S Building Innovations have been the preferred deck contractors for homeowners in Lexington, Blue Ridge, Rocky Mount, Starkey, Hollins and the neighboring regions for over thirty years. Contact us today to see how we can help transform your outdoor space into an outdoor oasis.