Deck Installation in Bedford, Vinton, Boones Mill, Christiansburg, Hollins & Beyond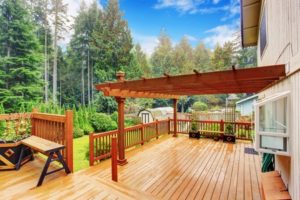 If you are looking for a reputable deck company to complete your new deck installation or decking repair, look to the deck building experts at F&S Building Innovations. Whether you are building a deck or simply need to replace your current decking, our professional and experienced deck builders can help.
For over 30 years, we have been providing Virginia homeowners with decks, sunrooms and other outdoor spaces to improve the design and functionality of their homes and properties. At F&S Building Innovations, we understand that it's about much more than simply building a deck – we are building a lifestyle. We truly enjoy making over our client's properties and giving them spaces they love and can enjoy for generations to come.
Our deck installation services include:
Design and Planning
Material Selection
Deck Construction
Add-Ons such as Deck Railings, Accessibility Solutions and More!
Anyone who has ever tried building a deck knows there is more to it than simply hammering some nails to some wood. As Class A contractors, we can ensure that you acquire the proper permits, select the optimal materials for your climate and design preferences, construct your deck properly the first time and have the appropriate sub-contractors on hand should you wish to add electrical features to your new deck or outdoor space.
We don't stop at decks, though, and offer our clients a full range of home renovation and remodeling services including sunrooms, additions, bathroom renovations, kitchen remodels and so much more. While we pride ourselves on providing competitive rates, we know that not every family has the funds to make badly needed renovations, so we also offer dental financing to qualifying homeowners.
If you own a home in Bedford, Vinton, Boones Mill, Christiansburg, Hollins or beyond and are looking for a construction company to complete your deck installation or completely replace your existing decking, contact F&S Building Innovations today to schedule a complimentary consultation. We are proud to have served hundreds of families throughout southeastern Virginia and look forward to creating the outdoor space that you've always envisioned with best-in-class deck installation and repair services.