Decking in Bedford, Rocky Mount, Salem, Starkey & Surrounding Regions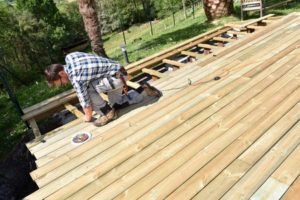 If you are looking for custom decking, look no further than your home remodeling experts at F&S Building Innovations. F&S has been designing and installing decking for nearly 30 years. In fact, we are Class-A Contractors with vast experience in any indoor and outdoor home renovation including patios, decking, sunrooms, additions, remodels and much more.
If you are considering replacing your old decking or having a new deck or outdoor patio designed and built on your property, we are the experts to call. We will take the time to truly get to know you and your desires for your new outdoor space, taking into account your lifestyle, budgetary guidelines, taste preferences and more, prior to designing the deck of your dreams.
We will advise you on the types of decking materials available to you and provide you with detailed information on the benefits and drawbacks to each material type, so you can choose the decking material best suited for your dream space. We will also help you determine when a deck railing may be necessary for safety purposes and assist in space planning. No matter what your goals are for your new deck, we can make it a reality.
Benefits to choosing F&S Building Innovations for your next decking project include:
Quality Craftsmanship
Unparalleled Customer Service and Support
Unmatched Attention to Detail
Customer-First Mindset
On-the-Job Cleanliness
and More
Whether we are replacing your decking with a new outdoor space, installing a new deck railing to protect your friends and family from untimely falls or accidents or designing a brand new deck from the ground up, our team will ensure the entire process is as enjoyable as a new home improvement should be.
If you live in Bedford, Rocky Mount, Salem, Starkey or the surrounding regions and want to discuss your decking or deck railing needs with qualified and experienced deck builders, contact us today! We are proud to be the builder more and more Virginia families rely on for their home remodeling and renovation projects and look forward to providing you with the outdoor space you have always envisioned.