Decking for Salem, Bedford, Lexington, Vinton & Surrounding Cities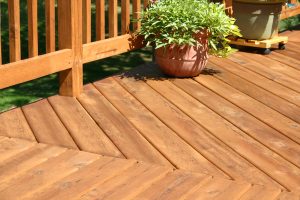 Looking to create your personal outdoor escape? From constructing decking to installing a screened in porch, let F&S Building Innovations handle your open-air living and entertaining space. At F&S Building Innovations, we believe that if you build smart, you build right. Not every handyman can plan for all of the small — yet important — details of constructing a sound outdoor deck. That's why it's imperative to hire a trusted contractor for your decking needs.
Time and time again, we've helped our clients remedy decking problems caused by original installation errors, poor design planning and low quality materials. Unfortunately, they've learned the hard way that you truly get what you pay for. Thankfully, our skilled contractors and subcontractors are equipped to remedy any shoddy construction work. At F&S Building Innovations, we believe that, by building right the first time, you can save yourself the time and money of costly repairs or reconstruction to your decking or screened in porch.
Some common decking mistakes that do-it-yourself deckers make include:
Not establishing a design plan or doing structural homework
Failing to get a permit
Not connecting the deck to the house or doing so inadequately
Underestimating the elements
Not understating the many factors the sun plays on decking
Not planning the placement of furniture
Not preserving and maintaining the wood
No matter what your decking needs may be, you can rest assured that the trusted and licensed F&S Building Innovations professionals can make your outdoor living and entertainment space as unique as your home and family. With so many upgrades, features and design options, your choices are truly endless when it comes to customizing your patio enclosure. For these reasons, we advise that you hire only licensed and insured decking contractors to build your dream patio. With so many moving parts, it's not difficult to overlook important details and create an unnecessary and expensive construction mess.
F&S Building Innovations is the trusted name for turnkey residential construction decking solutions. We've helped those in Salem, Bedford, Lexington, Vinton and surrounding cities to deck out their dream outdoor living areas with the utmost craftsmanship and highest quality materials. Contact us today to schedule your free consultation and decking estimate.