Decks For Salem, Roanoke,Vinton, Bedford, Christiansburg, Lynchburg & Surrounding Areas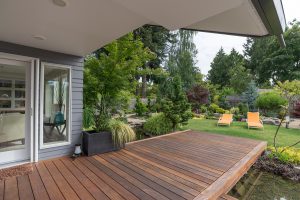 Old, pressure-treated wood decks were terrific to enjoy but would soon become a problem to maintain. Deck additions increased outdoor living space but after a few years they would just take too much work. They would need cleaning and staining. Boards could dry out or even rot. The amount of time owners spent properly maintaining wood decks could become disproportionate.
There's good news for those considering replacing one of these older decks. That is the availability of composite decking materials like those made from Trex. The advantages of composite decking additions are plenty. These advantages include:
A wide choice of colors
Colors are less prone to fading
Composite materials are waterproof
Colors can be combined to create designs
Composite decks can have an almost unlimited lifespan if they are designed and constructed properly. That is why F&S Building Innovations is you best choice. We are experienced in building deck additions that may or may not be attached to your home. If you are considering getting a new deck, you should consider F&S Building Innovations. Our company is A+ rated by the Better Business Bureau and we are a member of the Roanoke Regional Builders Association. We have been building our reputation by building quality additions, sunrooms, remodeling kitchen and bathrooms and other commercial and residential additions.
When you contact F&S Building Innovations for your project, you are getting access to a team of professionals who can help you create decks that reflect your lifestyle and enhance your time at home. Visit or call our Roanoke showroom to learn more about composite materials and how they can benefit your deck project. Contact us today to learn why more Vinton, Lynchburg, Christianburg and Salem decks are being constructed using composite materials by F&S Building Innovations.