Handicap Bathtub for Salem, Lexington, Bedford, Christiansburg, Vinton & Neighboring Regions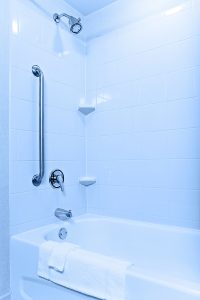 Are you searching for a reliable general contractor to handle handicap accessibility renovations and fixture installations? At F&S Building Innovations, we've dedicated an entire division to ADA Accessibility solutions. Whether you're in need of a handicap bathtub installation or a larger remodeling project to improve the safety of the home, our experienced general contractors have you covered.
Consulting a reliable and knowledgeable remodeling contractor should always be your first step when seeking to improve home safety for seniors and the disabled, and installing handicap accessible fixtures and safety features is not a task to be taken lightly. Hiring a reliable general contractor ensures that only the highest quality materials are used, and that any features are properly installed for optimal safety. Fortunately, our experts at F&S Building Innovations have experience handling a variety of home accessibility needs such as handicap bathtub installations, shower safety rails and more. No matter what your remodeling needs may be, our team can make any homeowner's needs a stylish reality.
Our team of trusted remodeling experts will help you design, plan and execute your home remodeling plans to ensure optimal safety and accessibility for those in the household. We specialize in a variety of installation needs, such as:
• Barrier free showers
• Walk-In handicap bathtub
• Ramps
• Elevator additions
• Widen doorways
• 1st floor bedroom, baths and laundry rooms
• Additions and renovations
No matter what your home accessibility needs may be, F&S Building Innovations will work with you to make sure that your entire home is as safe and ADA-compliant as possible.
If you're searching for a reliable and experienced general contractor to handle your handicap bathtub installation or other handicap-friendly home updates, look no further than F&S Building Innovations to handle your renovation needs. We've helped those in Salem, Lexington, Bedford, Christiansburg, Vinton and neighboring regions with their home update and remodel. Contact us to kick off your home improvement project today.