Handicap Showers for Residents of Roanoke, Salem, Lynchburg, Bedford, Lexington & Surrounding Regions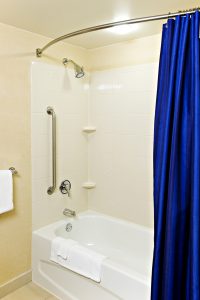 Are you a homeowner living with an older parent or relative? If so, you may be researching ADA-compliant accessibility features and design options to improve your loved one's ability to live in and move within your house. Fortunately, our team of on-staff ADA specialists can guide you through your options. Whether you're installing handicap showers or walk in bathtubs, you and your family are in great hand with FS Building Innovations.
If nothing else is up to ADA standards, we advise that our clients install handicap showers or walk in bathtubs in their master or guest bathroom. Since the bathroom area is often the most slippery, it is also the most dangerous room in the home. To avoid any potential slips and falls, it is recommended that homeowners update their standard shower stalls or tub fixtures to handicap showers for an effortless experience. The many accessibility features we can install to improve the accessibility, safety and comfort of your home include:
Barrier-free handicap showers
Walk in tubs
Ramps
Elevator additions
Widened doorways
In addition to these specialty features, our general contractors are also able to advise you on accessibility solutions for home renovations and new build planning for those who will be accommodating individuals in need of mobility assistance. Whether you're in need of a first floor bedroom, bathroom or laundry room, our in-house ADA specialists will make sure that your home is ideal for every family member.
No matter what your home mobility needs may be, our knowledgeable staff at F&S Building Innovations will ensure that your home is optimized for maximum utility, safety and comfort for every member of your household. We've worked with those in Roanoke, Salem, Lynchburg, Bedford, Lexington and surrounding regions to improve the accessibility of their homes through proper planning, use of special technology and handy fixtures, such as handicap showers. If you feel that you or a loved one would benefit from any of these accessibility and mobility enhancements or would like to learn more about the services we can provide, contact us today.