Home Additions for Those in Roanoke, Salem, Lynchburg, Bedford, Lexington & Nearby Cities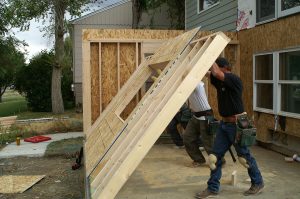 At F&S Building Innovations, we specialize in home additions to help you accommodate your growing household and add value to your home investment. If you live in Christianburg, Vinton, Cave Spring, Troutville, Smith Mountain Lake and neighboring areas, hiring a construction contractor will help you add the custom space you and your household need – without the stress of buying a new home.
Whether your home needs more square footage to accommodate your growing or extended family or you simply want to add luxury amenities to your home, home additions are a great way to increase the value of your home. By investing in your property with a home addition, you can create the perfect, customized space for your family to enjoy for years to come for less than the price of a larger home, and home additions are a great way to help grow your profit should you sell your home later on in life.
No matter your need, an experienced construction contractor can help you design and construct the perfect custom guest bedroom, garage, or sunroom. At F&S Building Innovations, we are dedicated to assisting our clients in every step of the design and construction process.
An experienced contractor can help you design a space that suits your individual and household needs. At F&S Building Solutions, we value our clients' time and work with the utmost urgency and craftsmanship to create first-class home additions when you and your family need them most. Your home improvement options are endless.
F&S Building Innovations offers custom spaces including:
Bedroom
Bathroom
Garage
In-Law Apartment
Home Office
Exercise Room
Pet Play Area
Toddler Room
Day Room
No matter your individual need, our team of experts are equipped to meet any custom home improvement challenge. With over 30 years of experience in home additions, we proudly serve the Roanoke, Salem, Lynchburg, Bedford, Lexington and neighboring regions. Contact us today for a free consultation with a construction contractor.