Home Remodel in Salem, Bedford, Christiansburg, Lynchburg, Troutville & Beyond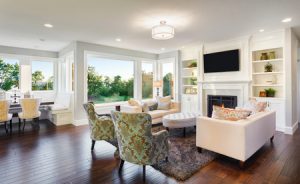 If you are searching for a construction company that can help you plan and execute your home remodel project from start to finish, choose F&S. At F&S Building Innovations, our skilled team can help you with any bathroom remodel, kitchen update, new deck build, addition or sun room construction project.
Our team follows a careful process guided by key check points to ensure that everyone involved has a throughout understanding of the challenge, timeline and budget. For those who are new to the home renovation experience, our process is as follows:
Design
Partner with our experienced designers and builders to come up with a home improvement plan that addresses your household's needs and desired aesthetics.
Implement
Once the home remodel designer and contractor have reviewed the plans for feasibility, the team will begin preparations by acquiring the necessary materials, permits and construction crews for the job.
Set Up
Before any construction begins, you'll want to remove your personal belongings from the affected area or areas. For example, if you're preparing for a bathroom remodel, you'll need to empty all belongings stored inside the cabinets and linen closets.
Demolition
Now that the area has been prepped and the materials have arrived, our team will move forward with a professional demolition, as necessary.
Rebuild
Starting from the ground up, the home remodel transformation will take place during this part in the process.
Follow Through
Our clients will always have the opportunity to do a final walk through of the remodel to ensure that our team's work was done correctly, completely and according to plan.
Whether you're interested in a home remodel for your household needs or would like to spruce up an investment home, our team of designers and contractors will help you realize any custom home vision. We've worked with homeowners throughout Salem, Bedford, Christiansburg, Lynchburg, Troutville and beyond for over 30 years and offer free initial project consultations. Contact us to get started on your home improvement or bathroom remodel project today!