Home Remodeling in Bedford, Salem, Smith Mountain Lake, Starkey, Troutville & Beyond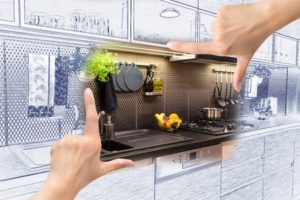 Have you recently considered upgrading your home with a renovation or addition? F&S Building Innovations specializes in home remodeling and renovations, and we have been proudly serving the needs of Virginia homeowners for over 30 years.
We are Class-A Contractors, so when you choose us to execute on your vision, you will be partnered with a general contractor who can see you through every part of the design and build process.
What to Expect:
Consultation: During your complimentary design consultation, we will work closely with you to determine your design preferences, space and functionality needs, lifestyle, budget and more.
Design: After thoroughly discussing your needs and preferences, we will custom design a space with you in mind, reviewing our final design with you and adding any additional features or design elements we know you will like along the way.
Permitting/Staffing: We will oversee the procurement of any necessary permits, as well as call in any of our trusted subcontractors who will be needed for the completion of the project.
Build: Once all designs are approved by you and all necessary permits are required, we will initiate the build with a licensed general contractor overseeing the entire home remodeling process.
Final Inspection: We will be by your side for your final inspection to ensure that every last detail is to your exact specifications.
F&S Building Innovations offers our home remodeling clients superior craftsmanship, meticulous attention to detail, efficient design and build timelines and much more, so choose the general contractor trusted by more and more Virginia residents. Choose F&S Building Innovations today to get started on your home remodeling project. We proudly serve those in Bedford, Salem, Smith Mountain Lake, Starkey, Troutville and beyond, so contact us today to schedule your free design consultation. We look forward to turning your vision into a reality and creating the custom space you've always dreamed of owning.