House Renovation in Roanoke, Salem, Lynchburg, Bedford, Lexington & Surrounding Regions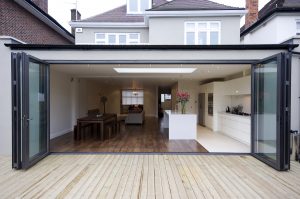 Considering a house renovation project for a fixer-upper or out-dated family home? At F&S Building Innovations, our team of skilled craftsmen can help turn plans for home additions, bathroom remodels, or backyard decks into a reality.
Whether you're flipping a home for profit or updating your current home to better suit your family's needs, our team will work with you and your budget to maximize your return on investment. By hiring the craftsmen at F&S Building Innovations, you'll avoid the unnecessary expenses incurred by rushing prep work, taking inaccurate measurements, using cheap materials or utilizing the wrong tools for the job.
While many home improvement television shows depict the house renovation process as a quick flip or simple "do it yourself" solution, the reality is that high quality construction is no easy task. Ensuring that the completed construction and materials used are safe and sound is critical to not only the value of your home or property, but also for the peace of mind for everyone living under your roof.
At F&S Building Innovations, we'll work with our clients and their budget to plan, design and build renovated dream homes or backyard decks. By hiring us to handle your house renovation, you'll avoid top amateur remodel mistakes, including:
Building a small bathroom
Building small doorways
Building narrow hallways and staircases
Ignoring lighting
Using the wrong paint type
Choosing the wrong windows
Forgetting to update the electrical system
Ignoring your home's style
Avoiding permits
Skip the headache of planning a "do it yourself" home improvement project by hiring a professional contractor to handle the designs and subcontractors for your remodel or new backyard decks. No matter your house renovation budget, our team can help transform any home improvement vision into a finished dream home. We proudly serve those in Roanoke, Salem, Lynchburg, Bedford, Lexington and surrounding regions. Contact us today to schedule a consultation with one of our trusted contractors.