Kitchen Contractor In Lnychburg, Salem, Roanoke,Vinton, Bedford, Christiansburg, & Surrounding Areas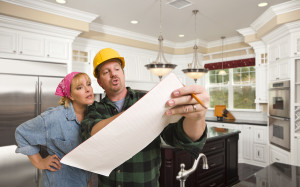 Are you looking for a kitchen contactor in Lynchburg? Perhaps you are thinking about adding a deck or a sunroom in Christianburg. If you live in the Roanoke, VA area we invite you to call or visit F&S Building Innovations.
At F&S Building Innovations, our name says it all. We are always staying on top of the latest trends and newest materials to help us deliver first class building and remodeling services. From a simple bathroom addition to an elaborate sunroom, we can assist you with just about any project.
Many choose us as their kitchen contractor because of our innovative design services. Our professionals consider the available space, your budget, your lifestyle and your particular tastes when designing your kitchen. As an experienced kitchen contractor, we can make suggestions you may not have considered.
Have you thought about a kitchen skylight?
Have you seen our LED lighting options?
What are all of your premium countertop options?
What are popular flooring choices today?
A qualified kitchen contractor, like F&S Building Innovations, does more than just install cabinets. We work with you from design services to final inspection to make sure you are 100% satisfied. We are proud of our A+ rating from the Better Business Bureau.
While most people believe their choice of cabinetry, hardware or even appliances is the most important part of their kitchen remodeling project, the fact is your kitchen contractor has the biggest impact. He will have the biggest effect on how your kitchen looks and feels and how much value it adds to your home. The same is true for a bathroom addition, sunroom or just about any remodeling project.
When it is time for your next project, we invite you to visit or call the F&S Building Innovations showroom in Roanoke. Contact us today to get a free consultation.