Kitchen Contractors Serving Salem, Roanoke, Lexington, Daleville, Boones Mill & Beyond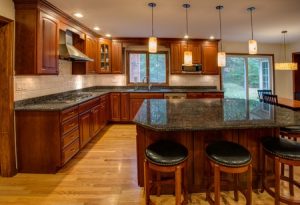 There are many different reasons to want to update your kitchen space. The kitchen is often a place of gathering and used daily, which often makes it one of the first rooms that homeowners consider renovating when they want to liven up their space. F&S Building Innovations has a team of kitchen contractors who understand what goes into making a great kitchen. When we remodel kitchen spaces, we believe that focusing on smart and necessary functionality is key. With more than three decades of industry experience, we can navigate through any challenge that pops up during the renovation process in what is arguably one of the most important spaces to consider when seeking to add value to your home.
Before you initiate your project and begin to remodel kitchen components, fixtures and more, there are some important factors to consider. These include:
Determining the right kitchen contractors for your needs
What features and design aspects you want to upgrade
Functionality and major structural changes you may want for your space
Design styles and cosmetic options like backsplash and flooring
Setting a realistic budget for your project.
Many TV shows and magazine articles make it seem like a total remodel may be the best idea for cost savings, but the kitchen contractors at F&S Building Innovations will be able to determine what changes are most important to you and provide you with estimates on how to remodel kitchen elements in the most cost effective way possible. Many people are surprised how simple installations like a new backsplash or countertop can totally transform a kitchen.
F&S Building Innovations has a team of talented and forward thinking kitchen contractors to serve homeowners in Salem, Roanoke, Lexington, Daleville, Boones Mill and beyond, and we truly enjoy working with closely with our clients to bring their dream kitchen to life. Contact us today to discuss our kitchen renovation process in more detail or schedule a consultation now!