Kitchen Designer In Bedford, Roanoke, Vinton, Lynchburg, Christiansburg, Lynchburg & Surrounding Areas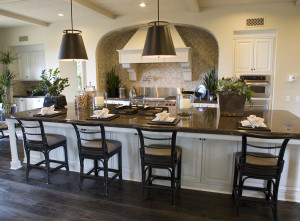 Everyone knows what it is like to try to work in a poorly designed kitchen. For many years, most people thought kitchen design was just determining the most advantageous place to run electrical and plumbing, and fit in the doors and windows. Little thought was given to function or flow. F&S Building Innovations the kitchen designer in Bedford has come to the rescue!
Our design professionals know kitchen design. Our kitchen contractors know how to integrate design elements that are creative, intuitive, and that maximize available space. Meals are prepared much easier, and are much more enjoyable when your work space is functional and beautiful. Here are some of the many benefits of working with a kitchen contractor:
Counter space is spread throughout the kitchen
Cabinetry comes with plentiful storage options
Skylights and LED lighting thoughtfully spaces
Breakfast bars
Financing is available
The end product of your kitchen design will be a space that is pleasurable to spend time in and also easy to use. Consequently, you may find yourself rediscovering the joy that comes from cooking a meal in the heart of your home, to share with family, friends, and loved ones.
You can rest easy in knowing that we are a member of the Roanoke Regional Homebuilders Association, and that we are A+ rated by the Better Business Bureau.
Contact us today to begin your kitchen design project! See why so many people in Bedford, Roanoke, Vinton, Salem, Christiansburg, Lynchburg and nearby Virginia communities choose F&S Building Innovations for their kitchen design.