Kitchen Remodeling For Roanoke, Bedford, Salem, Vinton, Christiansburg, Lynchburg & Surrounding Areas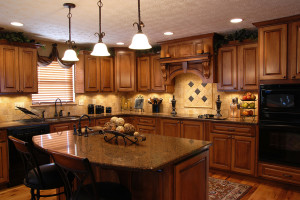 What is stopping you from getting that kitchen remodeling project done? Is it because you fear how much it will cost? Is it because you don't know where to start with your kitchen design? Is it because you don't want to have your home disrupted during a kitchen remodeling project? At F&S Building Innovations, we can help ease your fears.
Let's start with costs. Certainly full kitchen remodeling projects can be expensive depending on how extensive they are. At F&S Building Innovations however, we will show you your options for your available budget. If your budget is small, your kitchen design may have to be toned down from original expectations. We can still offer a fresh, updated appearance. Don't let the fear of the costs prevent you from pursuing your new kitchen when we are happy to provide a free, no obligation estimate.
If you don't know where to start with your design, our kitchen design team can help. We offer free initial design consultations, so that shouldn't stop you from moving ahead. All you need to do is consider the important elements you want in your new kitchen.
Premium countertops
Skylight
Larger windows
Rich cabinetry
LED lighting
Updated hardware
Finally, you should know that F&S Building Innovations uses experienced craftsmen. They understand the importance of minimizing their presence in your home. That means keeping an organized and neat work area and getting the job completed in a timely fashion.
With free estimates, free design consultations, and a team of trained professionals, you can get started today.
Contact F&S Building Innovations to make that long-awaited kitchen remodeling project a reality. Use our online form, call us, or visit our Roanoke, VA showroom today. There is no need to fear kitchen remodeling Roanoke when F&S Building Innovations is here to help.