Kitchen Remodeling in Salem, Christiansburg, Lynchburg, Smith Mountain Lake, Lexington & Neighboring Cities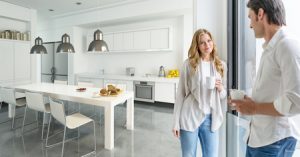 More and more importance is being placed on the layout and overall aesthetics of the kitchen, because people realize it's the room that people tend to gather in the most. Whether it's to help cook food and talk about your day with your spouse or a larger gathering with friends, people tend to congregate around the food. As a result, your kitchen is a very social space, which is why you may be considering kitchen remodeling to update your space. F&S Building Innovations is a kitchen contractor in tune with what our customers need. We are experts in our field and never hesitate to show you how we can take a project from something you like to something you love.
We are Class A Contractors, which means we can go through the entire design and construction process with you can offer our customers efficient and high quality kitchen remodeling. We can have fewer people involved and get work done quicker with less wait time. We also have reputable subcontractor partners who can handle any electrical or plumbing needs.
Benefits to working with F&S Building Innovations:
Class A Contractors
Over 30 Years of Experience
Custom Craftsmanship
Financing Options Available
Voted One of the Best Remodeling Companies
We promise to make this experience as fun as possible for you. While we are the experts, you know exactly what you want for your home, and we can guarantee that you will love the result of any kitchen remodeling project we take on.
F&S Building Innovations is happy to provide kitchen remodeling for residents in Salem, Christiansburg, Lynchburg, Smith Mountain Lake, Lexington and the neighboring cities. Contact us today to secure the best kitchen contractor in the area for your latest remodel!