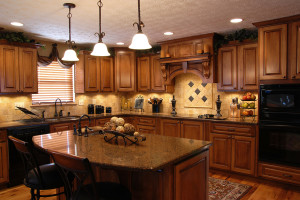 Kitchen Remodeling for Roanoke, Salem, Vinton, Bedford, Christiansburg, Lynchburg & Surrounding Areas
When it comes to kitchen remodeling Vinton, people choose F&S Building Innovations. Home is truly where the heart is. Within that home, the kitchen is the central area of focus. This is the place where families gather in the morning before heading out into the world. It is where you gather to talk about the experiences of each day, and to plan the days to come. Your kitchen serves far more purpose than the simple preparation of food; it is the place where your family connects.
A kitchen with a functional and comfortable design is far easier to live with than one that fails to meet the needs of your family. Often, this is the room within the home where your family spends the most time, and it should be organized in such a way as to be easy to use and enjoyable for everyone. That means combining a number of design elements such as lighting, counter space, seating and storage. At F&S Building Innovations, we have the expertise to help you create a space that put all of those elements to work for you and your family. Your best kitchen design includes:
A cohesive design that creates a comfortable space
Plenty of counter space for meal preparation
Adequate seating for all family members
When it comes to kitchen remodeling Vinton families know that F&S Building Innovations is there to design and build the perfect kitchen. Our team will work with you throughout the project, to ensure that the finished product is in line with your needs, expectations and budget. A kitchen remodel is a dream for many families, and we believe that the experience should be positive from beginning to end, and that the result should be enjoyed for many years to come.
See why so many people in Roanoke, Salem, Vinton, Bedford, Christiansburg, Lynchburg and nearby communities choose F & S Building Innovations for their kitchen remodeling. Contact us today to begin your kitchen remodeling project!