Kitchen Renovations in Roanoke, Salem, Lynchburg, Bedford, Lexington & Nearby Areas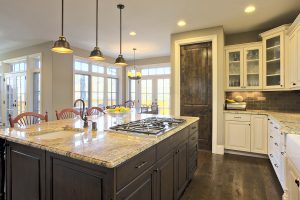 Kitchen renovations often become necessary when a homeowner or family member living in the house becomes disabled. Not many kitchen remodeling companies are qualified or have the experience necessary to complete a proper renovation and enable a person with a disability to continue living at home. F&S Building Innovations has been providing superior kitchen renovations for the disabled throughout Christiansburg, Vinton, Cave Spring, Troutville and Smith Mountain Lake for many years. As a family owned and operated business for over 30 years, we are proud to be recognized as one of the best remodeling companies. We have dedicated our time and resources to provide homeowners with innovated products, quality workmanship and a staff of experienced and knowledgeable professionals. Our team of design experts includes several Certified Aging-In-Place Specialists (CAPS) who are called upon to offer free consultations and quotes for kitchen renovations for the disabled.
When a free consultation is scheduled with one of our CAPS designers, additional factors in design need to be considered for a ADA kitchen remodeling project. First and foremost, the layout of the kitchen should be designed to provide the ideal environment for movement. The most common kitchen layouts are listed below:
Galley
U-shaped
L-shaped
Pentagonal
Single wall
G-shaped
The height of cabinets, appliances, sinks, food preparation areas, light switches and more are important factors in the design of ADA kitchen renovations. Creating a barrier-free environment and allowing for easy access to the everyday items needed in the kitchen is one of the most important objectives for someone using a wheelchair. Our designers will select products in the kitchen remodeling design to create a stylish, modern and functional kitchen for anyone in Roanoke, Salem, Lynchburg, Bedford, Lexington and nearby areas. Contact us today to learn more about our free kitchen design consultations or other F&S Building Innovations services.