Outdoor Decking for Homes in Salem, Bedford, Lexington, Vinton & Neighboring Cities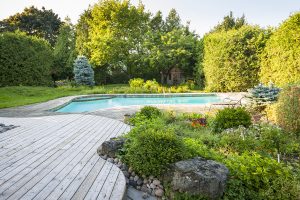 As one of the most trusted names in custom design and construction, F&S Building Innovations is the go-to firm for those seeking home renovations, remodels and house additions. Not only do we specialize in indoor home improvements, we also maximize and beautify outdoor living spaces with outdoor decking and screened-in porches. If you're ready to enjoy the benefits and pleasures of a covered deck, read on for more information on how to plan your perfect outdoor retreat.
If you're like the majority of homeowners who have considered outdoor decking, you most likely already have an idea of the style you want for your custom backyard retreat. Typically, the desired look and feel of a backyard deck is an extension of the home, blending seamlessly with the exterior for a professional, cohesive appearance. For some, having multi-level decking helps to create a true extension of the home.
Whether you want to replace aging or splintering pressure-treated wood or modernize an existing outdoor decking space, our team at F&S Building Innovations can create a custom outdoor living area for all of your entertaining needs. Popular outdoor decking treatments include:
Pressure-treated lumber
Redwood and cedar
Tropical hardwoods
Composites
Aluminum
Last but not least, you'll want to outfit your newly built or updated covered deck with railings. Not only do railings offer safety for those on multi-level decks or raised terrain, it also adds character to the overall appearance of the backyard living area. With options ranging from wood, aluminum, wrought iron, vinyl and composite material, railings provide homeowners with additional opportunities to customize their outdoor space.
No matter what decking style you feel is best for your home, our team of general contractors will take your outdoor remodel plans and turn them into a reality, from flooring to railings and everything in between. We've proudly helped those in Salem, Bedford, Lexington, Vinton and neighboring areas to transform their backyard into a superior outdoor living and entertainment area for nearly 4 decades. Contact us today to schedule your free consultation with one of our contractors and get started on creating your new covered deck or other outdoor decking project today.