Patio Deck in Roanoke, Salem, Lynchburg, Bedford, Lexington, Christiansburg & Neighboring Cities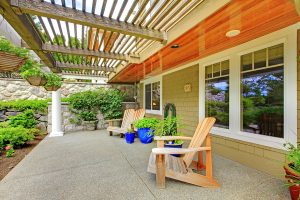 Many of the calls that we receive at F&S Building Innovations are from homeowners needing to fix poor-quality construction work. Patio deck construction is no different. Building a deck is a home improvement project that most homeowners underestimate in terms of preparation, planning and skill level required. As always, the idea of keeping costs low is the culprit behind risky fly-by-night jobs or overambitious "Do It Yourself" projects. Fortunately, our team at F&S Building Innovations offers creative solutions to outdoor decks and can work with any budget to deliver beautiful, custom creations.
At F&S Building Innovations, we believe in building smart and building right. We'll work with you and your budget when planning and building a deck of your dreams. While building smart isn't always the quickest option, it's always the right option. The peace of mind that comes with guaranteed professional work from the area's most trusted contractors and skilled subcontractors is truly priceless. You can count on our team to deliver high quality work on time and within budget. Additionally, you'll avoid common amateur construction blunders by hiring a professional contractor to oversee your patio deck construction. Some of the most common mistakes that can be made when building a deck include:
Failing to plan layout for spatial needs
Not doing structural homework
Not securing the necessary permits for construction
Failing to connect the patio deck to the home
With an experienced professional contractor, you're guaranteed to avoid these inefficient and costly errors. Our contractors will also help you decide on which decking material is best for your needs based on the elements directly affecting your patio deck as well as your budget. If you're undecided between traditional pressure-treated wood or contemporary composite decking, our team will make sure that you know the pros and cons of each option before you.
We've worked with homeowners in Roanoke, Salem, Lynchburg, Bedford, Lexington, Christiansburg and the neighboring cities to create their ideal patio deck. Contact us today to request a complementary consultation with one of our experienced contractors.