Patio Decks in Salem, Lynchburg, Bedford, Lexington, Vinton & Surrounding Regions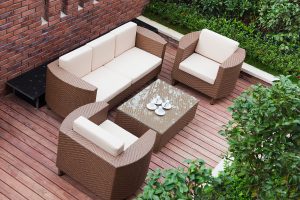 Looking to add more outdoor living space to your current home or investment property? When built properly, patio decks are a great solution for adding living space with minimal turnaround time. Whether you're expanding upon a current screen porch area, renovating a worn-down deck or building an entirely new space, the experts at F&S Building Innovations will turn your outdoor project plans into a reality.
Custom patio decks not only offer homeowners and property investors the benefit and selling point of increased square footage and living space, but they also add the natural beauty that accompanies outdoor living spaces. Additional benefits include:
Added personal style
Additional living space for family and guests
Natural lighting
While many "do it yourself" home decor and improvement television programs showcase the simplicity and cost-efficiencies of constructing patio decks or installing a screen porch without a professional contractor, proper project planning is critical for a successful build that stays within the allotted timeline and budget. More importantly, it's important that anyone considering a "do it yourself" approach for their project know and understand the appropriate safety procedures for the tools and processes used during the construction or installation. For that reason, unless you already have strong skills in construction and home improvement project management, we advise researching and hiring a knowledgeable and professional contractor for your outdoor build or renovation project. As a Class A contractor known for high quality craftsmanship, attention to detail and superior customer service, our team at F&S Building Innovations will ensure that every step of the process is done properly and is completed on time and within budget.
Enjoy all four season on a beautiful, custom built deck or screen porch. With over 40 years of experience serving those in Salem, Lynchburg, Bedford, Lexington, Vinton and surrounding areas, it's no wonder that F&S Building Innovations is a trusted name for decks in your community. Contact us today for a free consultation to learn more about patio decks, design options and special financing for your dream outdoor living solution.