Porch Builder in Cave Spring, Smith Mountain Lake, Christiansburg & Nearby Areas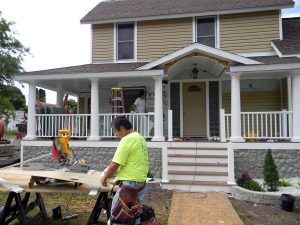 Are you looking for a quality porch builder? Would you like to have a porch builder who is very highly rated? How about a composite deck builder who knows how to construct decks and sunrooms that are of the finest design and highest quality, or one who builds maintenance free decks? F&S Building Innovations is the company you have been looking for.
We will create a new bathroom for you, add a brand new room, or remodel your kitchen. F&S Building Innovations is a Class A contractor, so we are able to expedite your project from initial design to completion. F&S has 30 years of experience with a broad variety of remodeling and construction projects for both residential and commercial properties.
We serve a very broad area from our Roanoke, VA showroom. Our teams have worked on remodeling projects and construction in:
Cave Spring
Smith Mountain Lake
Christiansburg
Lynchburg
Roanoke
That means, we are ready to serve you, wherever you might live. As an experienced porch builder, we provide only the most experienced craftsmen, and our composite deck builder services are matched by none. Contact F&S Building innovations today and see why Virginians are calling us superior home remodeling experts. Improve your home and increase its value in Cave Spring, Smith Mountain Lake, Christiansburg and nearby areas.