Redo Basement in Roanoke, Lynchburg, Bedford, Lexington, Christiansburg & Beyond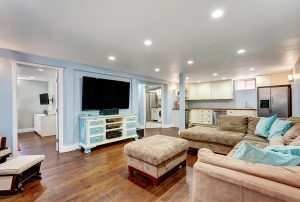 If you are searching for an experienced contractor to help redo basement fixtures and finishes, we are the experts to call. From below ground basement remodeling to bright, airy home additions, F&S Building Innovations has been the preferred renovation experts and sunroom builders for those in the Northeast for decades.
Our team of experienced contractors and renovation experts will handle all of the dirty work required to redo basement plumbing, lighting and more, including preparation, construction and clean up. Hiring a professional contractor will save you hundreds, if not thousands, of dollars in unnecessary repairs due to shoddy or amateur construction work. From project preparation to punch list, you can rest assured that you'll receive the highest quality construction and customer service in the industry.
For home owners who want to redo basement function or aesthetics, identifying family or house guests' spatial needs is a key first step to designing and constructing the ideal custom basement. Our team of renovation and remodeling experts can transform any damp and uninviting basement into a beautiful below ground home extension, such as:
• Guest bedroom
• Entertainment room
• Home theater
• Family room area
• Home office
• Personal gym
We can finish basements for those seeking additional space for their living and entertaining needs, and we also design and construct custom sunroom spaces for homeowners who wish to enjoy the beautiful outdoors rain or shine all year long. Our experienced sunroom builders have worked with hundreds of families to create a custom home extension to serve as an outdoor living room, home office or entertainment area.
No matter what your remodeling or new build needs may be, you can count on the expert basement and sunroom builders at F&S Building to flawlessly execute your custom home improvement project from ground up. We've helped those in Roanoke, Lynchburg, Bedford, Lexington, Christiansburg and beyond to redo basement plumbing, walls, ceilings, ventilation and more. Contact us today to kick off your basement remodel project.