Remodel Kitchen in Roanoke, Salem, Lynchburg, Bedford, Lexington & Surrounding Areas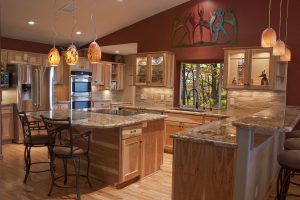 Are you looking to spruce up your current family kitchen or renovate a "fixer-upper" with a remodel kitchen project? Hiring a knowledgeable and skilled kitchen designer is critical to the timeline, budget and overall success of your home improvement project. At F&S Building Innovations, we will work with you to better understand your home remodel or business needs and goals.
A good kitchen designer will help you marry form and function with key kitchen elements that play into great design. Whether you have a sleek modern theme or a rustic country look and feel in mind for your kitchen, our team will help you narrow down your many options when it comes to decorative upgrades such as:
Kitchen islands
Luxury countertops
Cupboards and cabinetry
Basic appliances
Luxury faucets
Lighting fixtures
While any remodel kitchen project will have times of clutter, our team works tirelessly to complete your dream remodel kitchen with the least amount of inconvenience for you and your family. Our team works efficiently and effectively to guarantee that your experience is top-notch, and we understand that deadlines are important for both personal comfort within your home and a quick turnaround on your investment sale. With over 40 years in the renovation and remodel industry, our process has been fine-tuned to ensure high-quality work within the established project timeline.
No matter what design theme you may have in mind for your remodel kitchen project, our kitchen designer team will be able to coordinate the planning, design and construction on time and within your budget ensuring the best possible remodel experience. After managing renovation projects for those in Roanoke, Salem, Lynchburg, Bedford, Lexington and the surrounding areas for over 40 years, it's no wonder that we're the go-to contractors for all of the area's remodel needs. Contact us today to schedule your free consultation for any home improvement project with an F&S Building Innovations team member.