Remodel My Kitchen in Salem, Bedford, Lexington, Christiansburg, Vinton & Surrounding Cities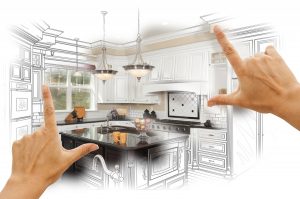 If you've recently thought to yourself "I should hire a contractor to remodel my kitchen.", you've already thought through the many ways that a "Do It Yourself" approach could go wrong. There are plenty of opportunities for remodeling mishaps when work is done by amateurs or inexperienced workers. Whether you're in need of a full kitchen remodel or simply needing to redo bathroom fixtures, F&S Building Innovations is equipped with the skilled craftsmen to handle any home improvement project.
The kitchen is arguably the most important room in the house. It's evolved past simple food preparation and has become the center for family and guests to gather. As a result, we've had several homeowners who live in older homes ask that we help them increase the functionality of this space to mirror the amenities of newly built homes. If you can relate to these homeowners and have wondered "Can I find a reputable company to remodel my kitchen…?", our answer to you is YES!
At F&S Building Innovations, our skilled designers, contractors and subcontractors will work with you and your budget to strategically plan the ideal kitchen layout for your needs, while keeping your desired style in mind. With the help of a professional contractor, your dream kitchen can become a reality. We specialize in transforming out-of-date kitchens into custom gourmet spaces in a variety of styles, such as:
Traditional Kitchens
Contemporary Kitchens
Transitional Kitchens
Farmhouse Kitchens
Modern Kitchens
Rustic Kitchens
Whether you're looking to remodel your kitchen or redo bathroom amenities, you can count on our team at F&S Building Innovations to deliver high quality craftsmanship and materials that you and your family can enjoy for years to come.
As the preferred builders and remodelers for those in the Salem, Bedford, Lexington, Christiansburg, Vinton and the surrounding cites, we've helped several clients who come to us saying, "Please remodel my kitchen!" No matter what your budget may be, we're here to help transform your current space into your very own dream kitchen. Contact us today to get started if you want a new kitchen or to redo bathroom layouts and more!