Remodeling House in Salem, Lexington, Christiansburg, Daleville, Moneta & Neighboring Cities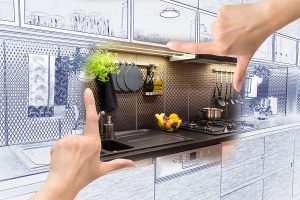 At F&S Building Innovations, we're noticing an increase in homeowners renovating and remodeling their homes to structurally enhance the function and flare of their home. This growing trend in remodeling house interiors, exterior renovations and house additions has sprouted up in response to the rising popularity of home improvement television shows and increased exposure to luxury custom homes in popular culture. What if we told you that you didn't have to be rich and famous to live in your dream home? We'll help you add a bathroom, update your kitchen or redo the decking on your patio to achieve your custom vision.
Remodeling house features to add character and charm is always the way to go when planning your remodel project with your contractor. Your home should reflect the household's unique personality, while also serving its primary function of providing sufficient living space. Fortunately, our team of knowledgeable contractors will guide you through your options as you select countertops, cabinetry, hardware, flooring, backsplash tiles and more for your new bathroom addition — making remodeling house decisions a simple and stress-free task.
For those looking to add a bathroom to your living area hallway, basement or bedroom, there are plenty of options and styles to accommodate your household's and guests' needs, such as:
Master bathroom
Efficient full bathroom
Three-quarter bathroom
Powder room
and more!
As with all plumbing services, we always advise that you hire professional contractors such as F&S Building Innovations to handle the intricate piping and advanced plumbing processes that are involved when you add a bathroom to a home or renovate a kitchen.
No matter what your dream home may consist of, you can count on the professionals at F&S Building Innovations to deliver high-quality construction on time and within budget. We've partnered with hundreds of homeowners in Salem, Lexington, Christiansburg, Daleville, Moneta and the neighboring cities and have worked on remodeling house interiors, exterior construction and general home improvement projects for nearly four decades. Contact us to embark on your dream home project today!