Renovating a Bathroom in Salem, Lynchburg, Lexington, Christiansburg, Daleville & Neighboring Areas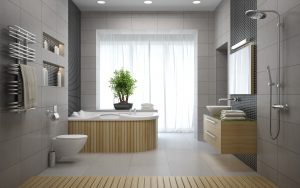 Are you searching for a general contractor to help you plan and execute your home improvement project? Whether you're planning on renovating a bathroom in your home or would like to redo basement plumbing, lighting, ceiling or fixtures, you can count on the remodeling and construction experts at F&S Building Innovations to handle your home improvement project with the utmost professionalism and customer service from your initial consultation to the final walk through.
When renovating a bathroom, you'll need to first consider the purpose of the remodel project. If you're wanting to add luxury features such as a walk-in shower or whirlpool bath tub, you'll be working within different parameters than someone who is looking to construct an efficient full bathroom for their basement. Regardless of the type of bathroom needs and wants you may have, our team at F&S Building Innovations has you covered. From big picture renovation plans to the small details, we'll help you make all of the important decisions involved in renovating a bathroom. Standard bathroom options include:
• Double showers or dual shower heads
• Glass tile
• Shower seats
• Walk-in showers
• Under-mount sinks
• Shower lighting
For home owners who would like to redo basement plumbing or construct an efficient full bathroom or powder room for their finished basement, having an experienced contractor on board is critical to the success of your basement remodel project. Below ground plumbing is much trickier than the standard plumbing found in the rest of the house and requires reliable subcontractors and plumbers to properly and safely redo basement plumbing for the new or updated bathroom.
No matter what your bathroom plans or needs may be, our team of remodeling experts will make renovating a bathroom a breeze. We've worked with those in the Salem, Lynchburg, Lexington, Christiansburg, Daleville and neighboring areas to construct their custom home dreams. Contact us today to schedule your initial constellation with one of our experienced contractors.