Replace Deck in Salem, Lexington, Christiansburg, Cave Spring, Smith Mountain Lake & Neighboring Cities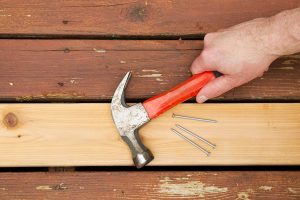 If you're searching for a trusted construction contractor to replace deck materials or handle a new deck installation, the experienced deck builders and contractors at F&S Building Innovations can secure the highest-quality materials to withstand even the harshest weather conditions for years to come.
With over 30 years of experience in the professional construction industry, our team is able to replace deck materials more efficiently and with more superior materials than our competitors. Our connection to leading deck material manufacturers and skilled craftsmen make installations a breeze.
Even if you feel that your project is a simple one, it's best to consult a professional contractor before you embark on a project such as a new deck installation or replacing decking on your own. Should you decide that you do not need professional assistance with your home improvement project, you'll likely run into some of the following common "Do It Yourself" project mistakes:
Not establishing a design plan or doing structural homework
Failing to get a permit
Not connecting the deck to the house or doing so inadequately
Underestimating the elements
Not understating the many factors the sun plays on decking
Not planning the placement of furniture
Not preserving and maintaining the wood
How do we know that these are common mistakes? We've had our fair share of project rescues during our nearly four decades of business. Save yourself the hassle and expenses of correcting shoddy or inferior work by hiring a professional to replace deck materials the right way from the start.
Whether you need to replace deck materials or are considering a brand new deck installation, you can count on the experienced professionals at F&S Building Innovations. We've served homeowners throughout Salem, Lexington, Christiansburg, Cave Spring, Smith Mountain Lake and the neighboring cities for nearly four decades. Contact us today to discuss your deck needs with one of our Class A contractors or learn more about our other construction services including remodeling, renovations, sunrooms, home additions and more.