Residential Building for Those in Roanoke, Salem, Lynchburg, Bedford, Lexington & Neighboring Regions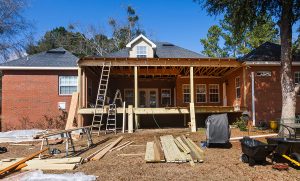 F & S Building Innovations is an accomplished, professional residential building expert. Our remodeling contractors are ready to transform your bathroom, sunroom, kitchen, porch and deck into something sensational. If you live in Christiansburg, Vinton, Cave Spring, Troutville, Smith Mountain Lake or nearby regions, we stand ready to serve you. Our company appreciates the importance of finding the exact residential building contractor for the job. We have the best staff in the industry, and that's why we can guarantee that our clients will be satisfied.
What are some of the most popular trends for residential building construction and remodeling?
Lighter, more natural finished woods for flooring instead of darker woods. Think limed, fumed or bleached woods with sealed-only floors or matte finishes. Porcelain tiles are also popular now.
A newer construction trend focuses on more contemporary, cleaner lines with more use of stone and standing-seam roofs.
Fewer hallways and more open floor plans with a profusion of lift-and-slide doors and glass.
Intricate wood designs, daring paint colors, bold wallpaper and magnificent patterned woods and iron and steel combinations
Multi-functional rooms are possible. Make your room a party room, library or bar.
For kitchen cabinets, think more natural-colored walnuts or lighter woods. All white kitchens are also making a comeback and gaining in popularity.
Healthy, green homes with geothermal pumps, softer surfaces, low-flow water fixtures, onsite electricity generation and recycled content building products.
Our remodeling contractors offer residential building services, including painting and drywall, vanities and cabinets, built-in shelving and bookcases, exciting new countertops, and much more. F & S Building Innovations specialize in residential renovations, kitchen and bathroom remodels, additions, unique, new custom homes, sustainable design, green building and so much more. We are licensed and insured, with over 30 years of experience serving Roanoke, Salem, Lynchburg, Bedford, Lexington and neighboring regions. Contact us today to schedule a consultation with one of our experienced remodeling contractors!