Screen Porch for Homes in Salem, Lynchburg, Lexington, Smith Mountain Lake & Neighboring Regions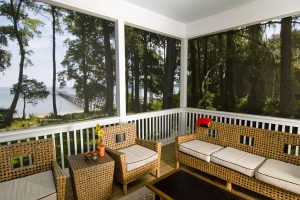 Are you looking to expand your home with a screen porch? Not only do screened-in porches and patio decks increase the living area of a home, but they also add value to your personal or investment property. The experts at F&S Building Innovations can help make your home addition plans a reality.
Whether you've considered enclosed porches or open-air patio decks for your outdoor construction project, our craftsmen at F&S Building Innovations will work with you to nail down the details for your screen installation or patio deck construction project. Depending on your anticipated use of your enclosed porch, you may consider screen or plexiglass enclosures to enjoy various seasons in comfort.
Additional benefits of your screen porch installation or patio deck installation project include:
Added personal style
Great for entertaining
Additional living space
Natural lighting
Unless you have a strong background in construction, we advise that those seeking to install a screen porch or construct patio decks research the contractors available to them. Besides the known dangers of unskilled and improper tool use, home improvement sites can pose serious hazards for you and those around you. More so, "do it yourself" home improvement projects frequently lead homeowners and property investors to run over the estimated timeline and budget. These physical and financial risks can be avoided by hiring a knowledgeable contractor.
No matter your budget or turnaround time, our team at F&S Building Innovations can turn your screen porch plans into the home addition project of your dreams. We've helped those in Salem, Lynchburg, Lexington, Smith Mountain Lake and neighboring regions to increase the living space and value of their home or investment property. Want to get started on your dream outdoor living space project? Contact us today to schedule your free consultation with one of our contractors.