Solarium in Bedford, Salem, Roanoke, Vinton, Christiansburg & Surrounding Cities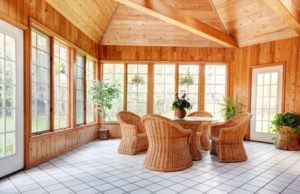 If you are interested in adding a solarium onto your home, choose the conservatory and sunroom specialists at F&S Building Innovations. F&S Building Innovations has over 30 years of experience designing and constructing one-of-a-kind spaces and can create a truly unique and breathtaking solarium on nearly any property.
A solarium is named aptly, as it is a room or structure constructed of many windows that enable ample amounts of sunlight to enter the space. A solarium can make a great patio or conservatory, and the addition of a solarium will add value to your home.
F&S Building Innovations is your sunroom, solarium and conservatory experts. Having custom designed and built many different sunrooms and sunroom variations over the years, we are uniquely adept at determining the ideal layout for your custom solarium.
Whether you want a conservatory with windows from floors to ceiling or simply want to transform an existing space into a sunroom your neighbors will be fawning over, F&S Building Innovations is the team to call.
THE F&S DIFFERENCE
Client-Focused: Our client's satisfaction is our number one priority at all times, and we would never leave a project before a client is 100% satisfied with the work that was performed.
Exceptional Quality Craftsmanship: We have the skills and expertise to offer quality construction each and every time we show up to the jobsite.
Attention to Detail: No stone is left unturned with our team. We will plan, design and execute every aspect of the construction of your new solarium to exact specifications.
Respectful, Courteous Team: Our team is always respectful and courteous of you and your property, leaving the jobsite neat and tidy and showing up on-time each day.
Class-A Contractors: Because we are fully licensed Class-A Contractors, we are able to see your project through to the very end.
If you live in Bedford, Salem, Roanoke, Vinton, Christiansburg or the surrounding cities and have been considering adding a solarium, conservatory, sunroom or any other addition on your property, please contact us today! We have design ideas you may haven't considered and are happy to provide free design consultations at your convenience.