Sunroom Builders Serving Lexington, Daleville, Moneta, Rocky Mount, Boones Mill & Beyond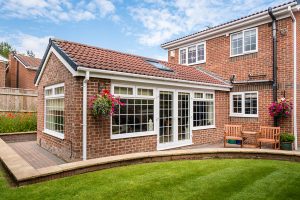 As the preferred sunroom builders and renovation experts for home owners in the Northeast, F&S Building Innovations has worked with hundreds of home owners and families to make their custom sunroom new build or remodel dreams come true. No matter what the reason for you wanting this sunny home addition or spatial update, you can count on our team of experienced contractors to bring this bonus area to life on schedule and within budget.
As with any home improvement project, identifying the spatial and functional needs of a home addition or custom remodel is a critical first step in a strategic and successful renovation. Once you've researched design options and figured out a realistic renovation budget, hiring experienced professional sunroom builders to handle the dirty work is the next step.
For those with an eye for design, preparing a mood board for aesthetic inspiration is extremely helpful and can be very useful when selecting the necessary fixtures and finishings for your new or existing sunroom. One of our many renovation experts will work with you to hand-pick high quality materials such as flooring, windows treatments, paint and more for your custom home addition or remodel.
Our renovation experts and sunroom builders at F&S Building Innovations have also transformed existing sunrooms into beautified spaces for home owners to use for work and leisure, such as:
• Breakfast Nook
• Family Room
• Entertainment Room
• Play Area
• Home Office
No matter what your functional or entertainment usage may be for your custom built sunroom, you can count on the added space to bring a ray of sunshine to your home, family and guests.
As the area's trusted sunroom builders, our team at F&S Building Innovations has partnered with hundreds of families in Lexington, Daleville, Moneta, Rocky Mount, Boones Mill and beyond to plan, design and construct their custom sunroom. Contact the new build and renovation professionals today to get started on your home improvement project.